I'm sitting in the shade of an arborvitae hedge at Headwaters farm painting the row of evergreens behind the plots, watching the starlings fly in and out of crop rows and listening to a white crowned sparrow belt out its best song. A hawk soared over while I was scouting spots so I have a second opportunity to include a hawk into my plein air pieces.
Headwaters is an incubator farm. Would-be farmers apply to get a grant of ½ an acre for 5 years plus access to most of the necessary infrastructure and equipment to start a farm. My friend is in her first year growing medicinal herbs and mushrooms at Rise-up Remedies. I came out to visit and get a little dirty helping out. I couldn't resist the impulse to come early with my art supplies.
I paint the trees' shadows in the awkward blotches of a short attention span, set the painting aside to dry for a bit and watch a woman farming flowers in a purple plaid shirt and requisite straw hat. It's such an idyllic scene, this woman surrounded by flowers in her purple shirt.
I paint some colors over my shadows and lines. I set it aside again as Lizzy arrives and we leave to tour the farm and pick-up some tools. I wonder about all the farmers out here. Our society places such status on working indoors in a cushy environment. I see how people would be drawn to working with plants, to the romantic vision of a life tending the earth, but does the reality of long days outdoors doing repetitive physical tasks hold up to the draw? Having worked on a farm in my youth I know a full day of outdoor work is exhausting.
I water some plant starts with Lizzy before I wander back to the arborvitae to finish my painting. When I am reasonably content with it I walk back to the Rise-up Remedies plot to help weed. It feels so good to be outside doing work with my body. I have never been so miserable as I was sitting behind a desk for 8 hours a day being polite to people as a medical receptionist. I did not even feel human in that environment. Sometimes I would day dream of starting a farm at my mom's place but it seemed too hard. It would be too hard, but today I consider it may have been better than wilting in a windowless room generating income for other people.
Lizzy and I weed the oats which I didn't realize were a grass. Not that I had some alternative vision of what they looked like beyond flat, soft grains in a cardboard cylinder with a pilgrim on the front. Oat straw is an elegant grass. It's satisfying to pull the unwanted weeds from the soil by the root and pile them between the raised beds.
After my first year at The Evergreen State College I came to my hometown for the summer to work on an organic farm. I had spent spent three solid terms deconstructing my beliefs and society's paradigms in a postmodernism course. Growing vegetables and melons for people was a decent antidote to all that intellectualism. The need to eat was one of the few realities I felt I could take for granted.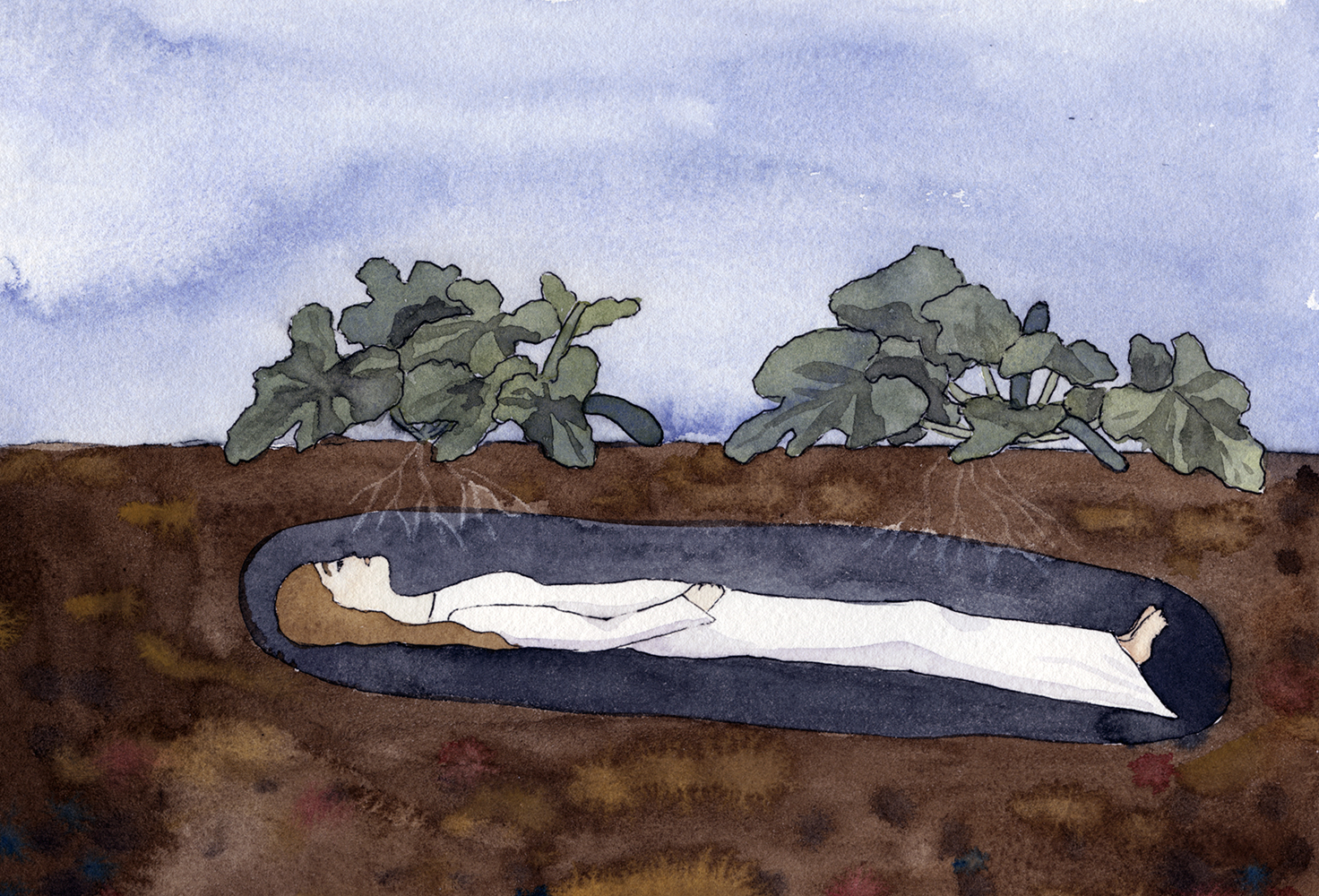 When I remember the farm I always think of a conversation we had in the packing shed while loading zucchini into waxed cardboard boxes. I don't know how we got on the subject but I informed my co-workers that I wanted to be composted after I died. Charles suggested they spread me out in the back field. "We'll have a really good zucchini crop next year." he said straight-faced. I never forgot his subtle humor. He was an attractive fellow, single, present, considerably older than I, but who knows what would have happened if I wasn't busy having an identity crises I thought everyone should be having with me.
Now I'm out hoeing a fennel row with Lizzy talking about how the ideals of permaculture don't hold up in environments where people actually have to earn a living and grow food in amounts that can feed people. We both laugh about how idealistic we were as youth, how convinced we were that we knew better than everyone. I was especially arrogant and judged anybody who created a meaningful life for themselves that they didn't question while my questioning kept me from creating any sort of life.
I ask Lizzy if she likes the actual farm work as a daily lifestyle. She does. I think about it and decide I could enjoy doing this everyday, but maybe not full-time.
We take a break to give away some herb starts to the other farmers and Lizzy insists I take a thyme plant despite my assurance I'm not much of a gardener. When I get home I realize I could be. I used to grow flowers on the window sills of my apartments. It was after I finished school and had to figure out how to pay off my loans that I stopped having time for such things. Now that I've escaped the office I find myself gifted with thyme. I even have a back patio. I see some potted zucchini in my future but I'm going to have to compost the residuals of my postmodern-self to get anything to grow.