I'm in Corvallis for the day with an hour and a half of free time before meeting friends at the coffee shop so I drive to Bald Hill and start up the trail along Oak Creek toward Fitton Green. I love the dry grass meadows of summer and the barn swallows perched on the fence in their deep blue wings and forked tails. It's been so hot it has been hard to enjoy the usual adventures of summer but today is a little cool, clouds above even.
I enter the woods and the drama of oaks cloaked in moss baring their long twisted history of always vying for light. A deep brown moth flies out of the brush pirouettes above my head and lands in the leaves along the bank on the side of the trail.
Moths have my heart. Drawn blindly to destructive sources of light I feel we are kindred spirits.
Once I was pulling English ivy off the shed at my brother's. The ivy held a lot of dead leaves and sometimes one would flutter upward past my face as I yanked the vines loose. It was eerie; these fluttering things were them same ocher and shape as dead leaves yet they seemed alive, soft, defiant of gravity.
I slowed down and paid more attention thinking maybe a sly bird had been living in the ivy but what I discovered were moths. What a magical thing to be so ethereal as to be almost imperceptible. And what a magical thing to be in the midst of them as they are loosed from the side of an old shed.
Then there was the evening a moth dropped out of nowhere and landed on my coffee cup as I tended to a broken heart. The fluttery thing in me that looked at his web-site portrait from a list of recommendations and said, I'm going here, despite my intellect protesting that one should not seek counseling from a man one is attracted to before even arriving.
I likened it to a moth, that draw, and marveled at its intensity for seeking loopholes, for ignoring the one-sided nature of our conversations, for believing with such convenience that he was a lonely insightful writer with few possessions who played upright bass, loved nature, wore fedoras and would be a very sensitive and affectionate partner despite being a hermit.
My intellect considered this might not be accurate. He might not own a single fedora. He might be partnered. He might have the sort of integrity that would not allow him to pursue a client. My intellect considered that if he didn't have this integrity my fantasy actualized would be a thing going very wrong in my life. The moth, however, had it's own mysterious agenda that did not involve such practicalities and my intellect became a tiny afterthought barely tethering me to reality.
Eventually he mentioned a wife. I kept my cool— intellect had prepared me for this. I went to the coffee shop later to mourn the necessity of reality when an actual moth appeared and perched on my cup, white, furry, seemingly unaware of my presence. How could I not read something poignant into this?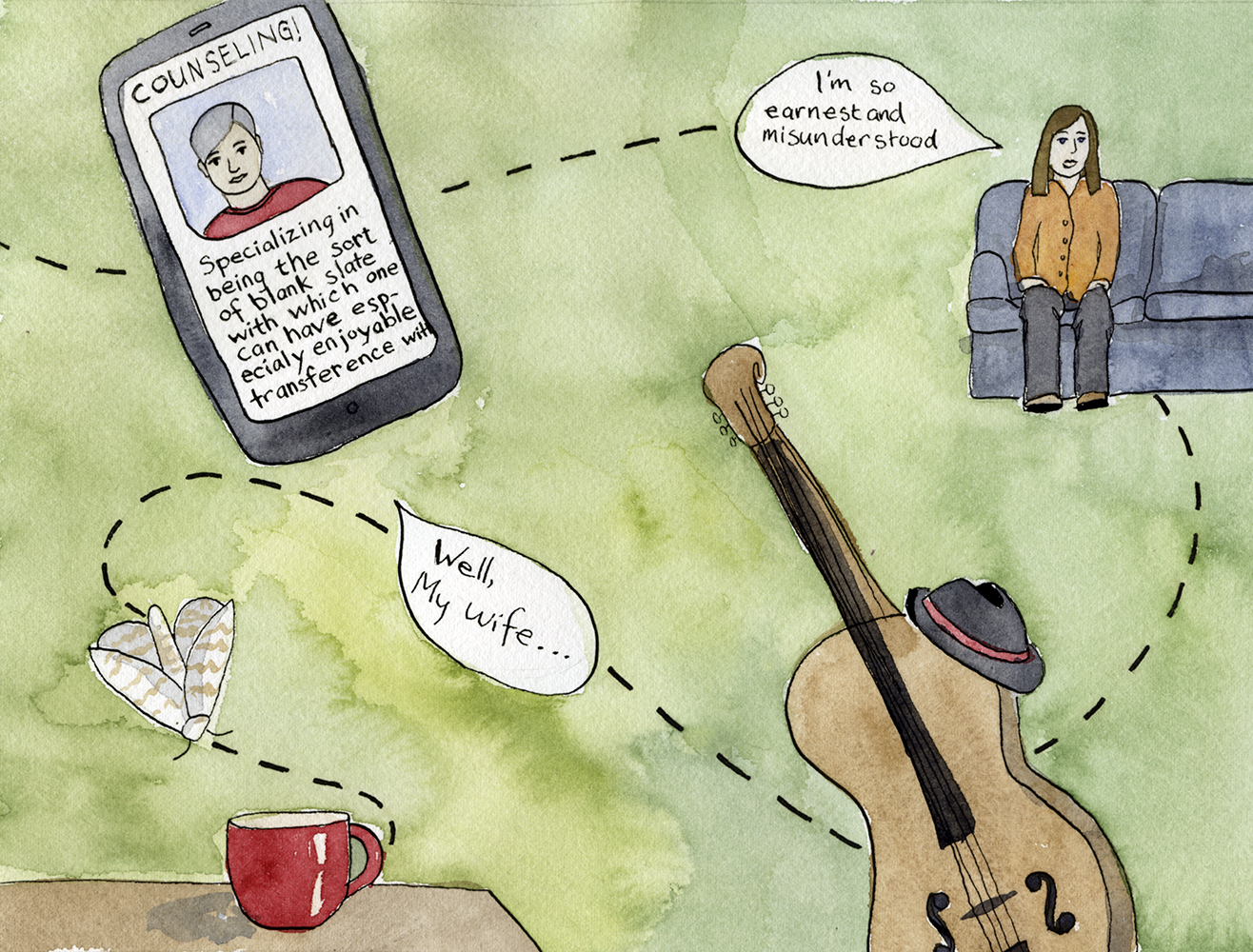 How about: beings who willfully scorch themselves on artificial lights are soft and designed for flight.
Even at the time I knew what transference was, that it was normal, that it would be safe to talk about the attraction in a session if I wanted to, that I could choose another counselor. But that was scary and the moth was compelling. The draw motivated me to work and his affirmative statements cashed out in my soul at a value of 1000 times than had they been issued by an unattractive colleague. Also it kept me from getting back together with my ex-boyfriend.
It must be an intense sensation for the caterpillar to liquefy itself in order to acquire wings. So my normally rational, self-contained personality sat over coffee that evening with a moth trying to embrace this departure from sense and maturity.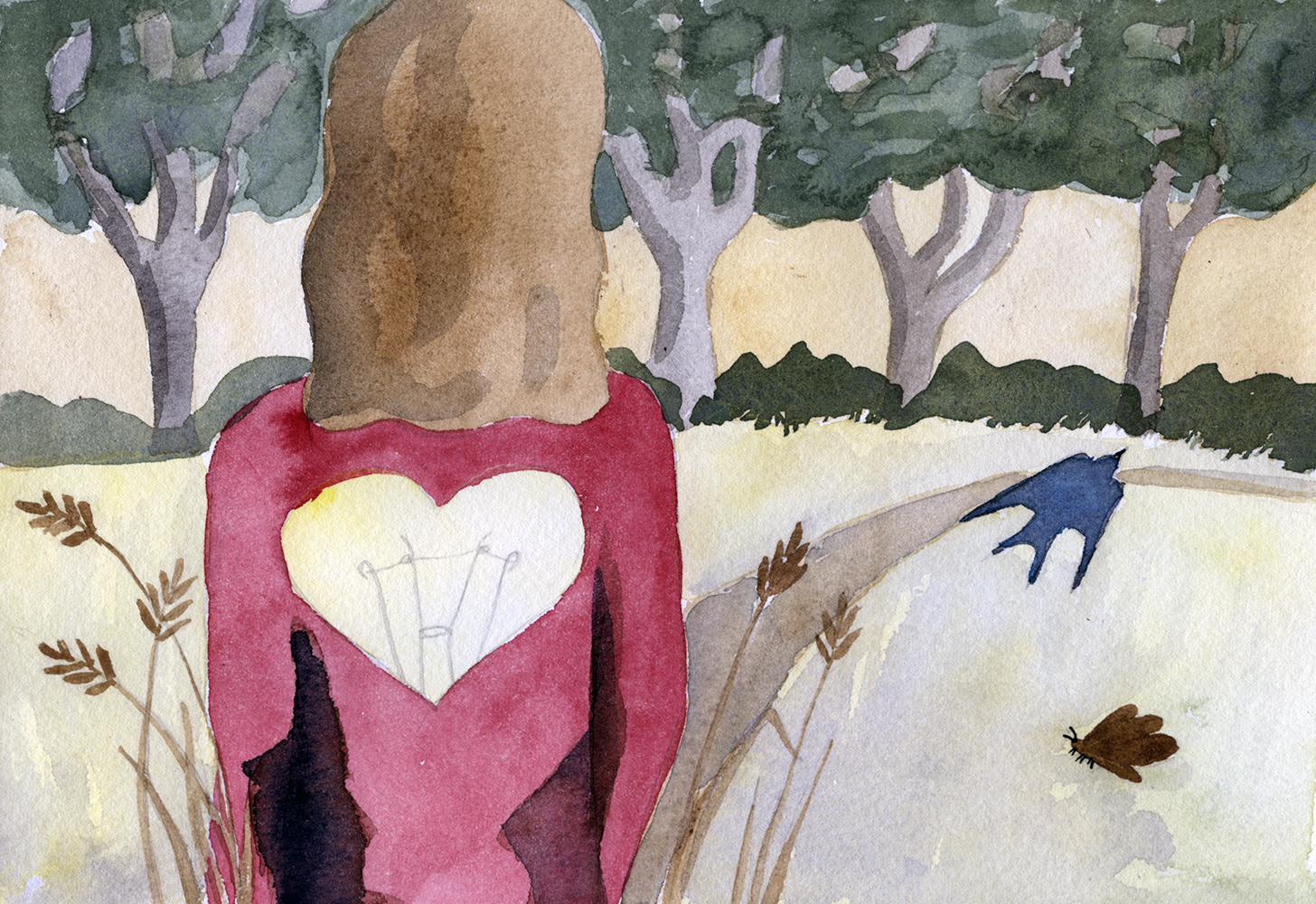 Today I climb through the oaks to the top of the ridge and lay on a split log bench in the sun. The cool air and dry leaves along the trail remind me of Autumn and evoke the feeling of eternity infused into each moment and molecule. It is a beauty almost imperceptible and defiant of life's gravity. It is a beauty that makes me feel rich and loved despite all my troubles with these ordinary parts of life. I hold this ethereal wealth all the way back to the trail-head becoming part of the meadow's population alongside the swallows and bugs, no longer a detached observer.
Some people believe that our quirks, our troubling oddities contain the most precious parts of ourselves, things so delicate we hide them in tight cocoons to make sure no one will ever have the chance to despise them. This moth-self in all it's intensity to dream up a perfect and epic love has something important lurking with her in the dead leaves of the ivy. What can I do besides slow down and pay attention while I pull down each idea that ever made me ashamed for holding my own epic source of light.