The crows are a riot to watch at Reed Lake today. It's at least 90 degrees and they are wet, shaggy looking, perched on the fallen branches protruding from the lake watching their cousins play in the shallow water while making their usual ruckus.
It's the Pedalpalooza* Bird Ride and appropriately I am the only one here. Not even the leader showed up. Four other riders did come to the meeting point at Woodstock Park but decided to go to ice cream instead of riding to Reed Lake as I suggested. At least we saw a Cooper's Hawk while we waited. Since none of us were competent birders it was fun to reason out what large bird just flew into the maple by its orange chest, long striped tail, obviously hawkish face and medium size between a Red-tail and a Sharp-shinned.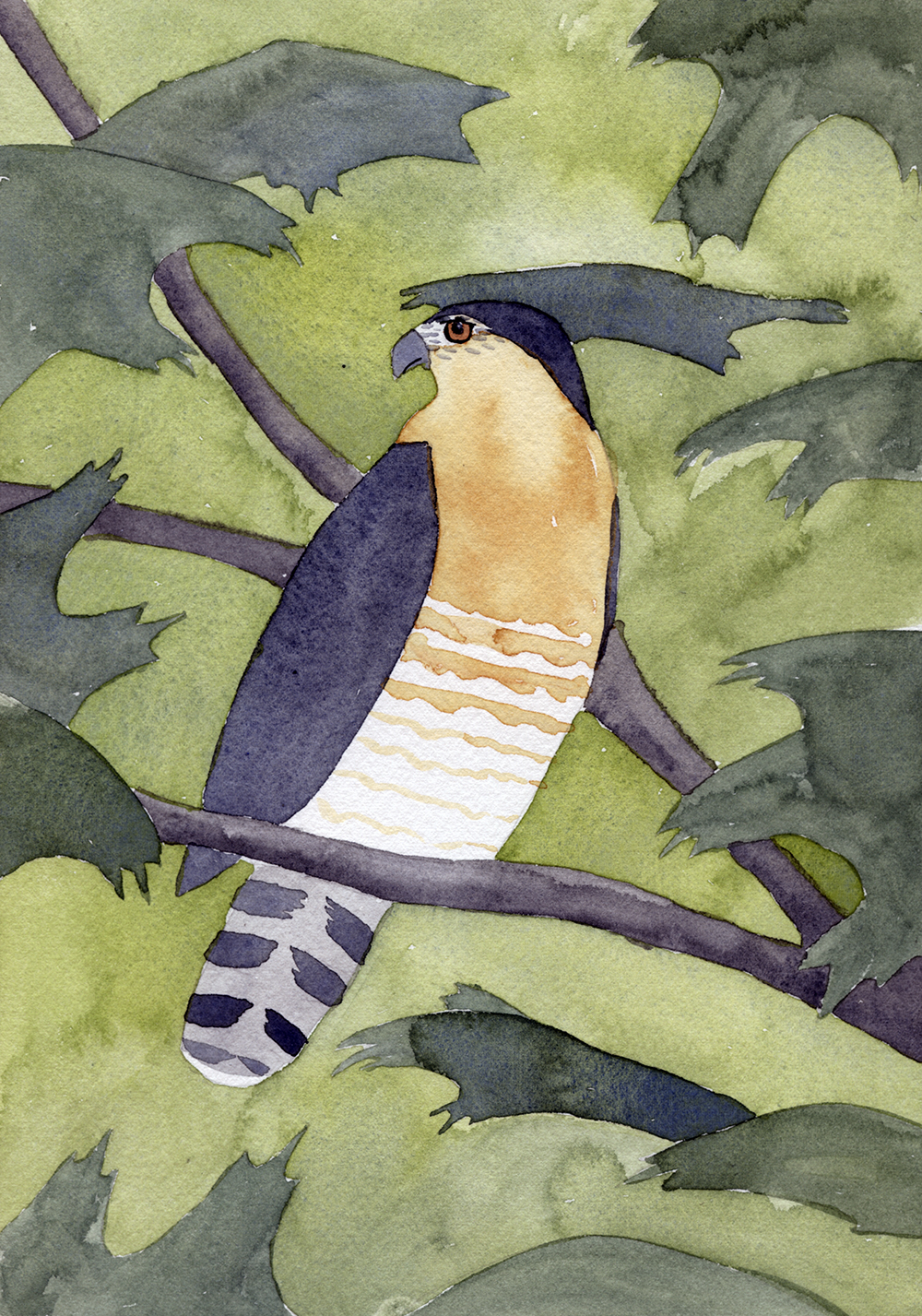 I wasn't expecting the Bird Ride to be a large or rowdy crowd but I also wasn't expecting to be the ride in it's entirety. The description encouraged participants to dress like their favorite bird. Birding? Bikes? Costumes? In my world this is the equivalent of a princess-themed birthday party for a 6 year old. So here I am sitting by Reed Lake alone watching a song sparrow belt out it's territorial song a yard away and I'm wearing a Red-winged Blackbird costume I made the night before by painting red and yellow patches on interfacing and stitching it loosely onto the shoulders of an old black shirt.
I was really pleased with myself but knew my expectations for the ride were in trouble when I arrived at the park and no one knew I was a Red-winged Blackbird or had a costume of their own. All five of us were a little suspect of the 4 pm start—not the most promising time to see birds—perhaps it was a typo and the leader showed up at 4 am.
I walk along the board walk admiring the murky lake. The mallards look in bad shape, their normally shiny green heads mostly white fluff, I assume they are molting. Their ducklings are adorable, fluffy yellow and brown with charming stripes across their eyes. I watch them swim about in their close-knit groups.
The Pedalpalooza rides are some of the few experiences I've had where watching humans is as enjoyable as watching other species. The fellow at the Galactic Disco Ride wearing the gold lamé bikini and purple glitter make-up was sure enjoying himself and he looked fab, as did the woman in the gold wings, thigh-high lace-topped stockings and checkered bikini bottoms which she confided needed  to be unwedged every two minutes.
I may be more wholesome than the quintessential Pedalpalooza rider, I tend to be covered and sober. I've seen people stash an amazing amount of beer in their backpacks for these events and various other substances. But a person can develop a certain amount of counter-culture class just by making it to 44 years having never married or had children.
When people ask me if I'm partnered or have kids I answer no and then its quiet and I feel like I'm supposed to provide an explanation. It's not a one sentence topic. I didn't plan my life to be this, but if I am honest, beginning my forties child-free felt just like waking up on the far side of a giant landmine field amazed I sleep-walked across the whole thing without setting one off. I feel deeply obligated to make the most of this.
Now my sober, modest self feels at home in the ruckus of a rebellious bike-party and is also content to be birding alone in a wonky, Red-winged Blackbird shirt with no Pedalpalooza fanfare for context. As I walk along the lake I hear the calls of a Brown Creeper, it's the first time I've identified them by ear. I spot one and watch it creep up a tree. This failed costume-birding-bike-ride has been refreshing—sort of like jumping in a lake on a hot day or righting a fabulous bikini costume that tends to slip into uncomfortable places.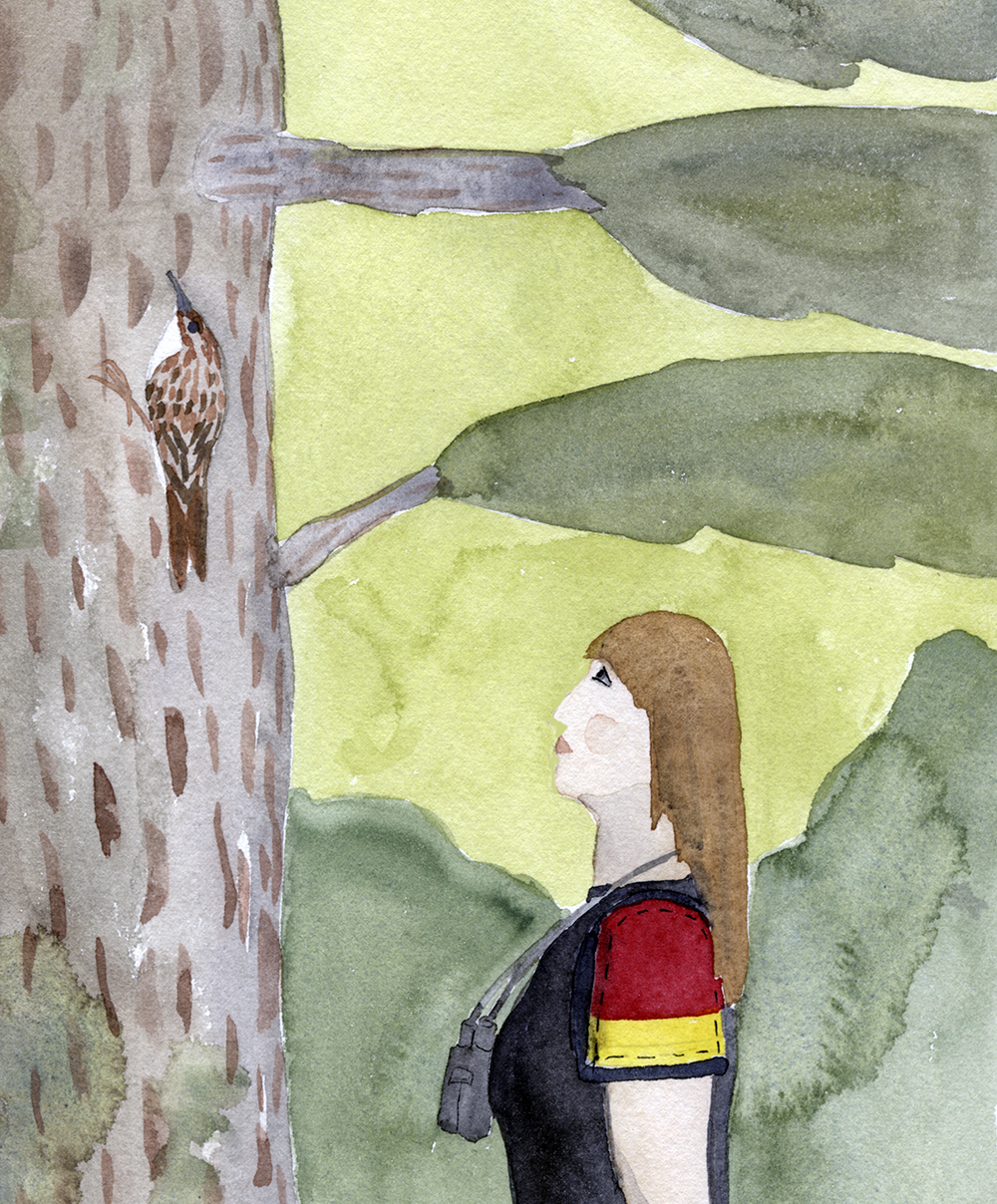 *If you aren't acquainted with Pedalpalooza, it is a month long festival in Portland where people who ride bikes and think more people should get around without cars gather for a variety of events. These often involve rowdy packs of cyclists in costumes with music blaring off bike trailers, disrupting traffic and having a grand party on wheels. Pedalpalooza is most known for the World Naked Bike Ride, but that is just one event during the festival.