Cascade Head South Trail is a fairy tale staircase of exposed roots climbing though a cavern of giant spruce trees and berry thickets into the meadows that overlook the ocean and a dense lumpy cloud cover. I got a late start on this hike and figured I could walk in for 30 minutes before I needed to turn around and drive back to Portland. 60 minutes out I'm looking at the top of Cascade Head from below wondering, is that a 5 minute walk? A ten minute walk? It's 8 pm and I decide to be reasonable, stop taking pictures of the cloud bank, and head back.
The forest light is dim now. Swainson's thrushes are filling the wood with their mystic arpeggios and sometimes it sounds like there is one right next to the trail. I stop and try to spot one in the tall leafy brush to no avail. They are good at hiding, being still, throwing their voices. Around a bend I startle one into noisy wing beats and watch it fly deeper into the brush. I still can't get a good look at it and eventually move along until one flies up the trail and lands on a tree in plain sight. I spot it in my binoculars long enough to recognize the brown spots across its breast but it flies off before I can focus. The light continues to fade so I forget about spotting birds and listen instead to the spiraling songs coming from every direction, the water-drop calls traded back and forth.
Once a coworker asked me if I knew what bird made a certain song, before he even began his description I knew he was talking about a Swainson's Thrush because of the wonder in his eyes. He had clearly been touched by something soft and shimmery, something transcending the roughness of the world. He looked the Swainson's song up on-line and was excited to finally give the singer its proper name, to know what it looked like.
Down the trail a ways I hear a couple Varied Thrushes sing, the eerie harmonic of their simple one note song drifting elegantly through the woods. If my coworker had been asking about a Varied Thrush his eyes would have held awe and a slight apprehension of the seedy underworld this bird had given him a glimpse of by parting his thoughts into silence like a heavy velvet curtain. Could the woods be more charmed? Listening to two of my favorite bird songs at the same time is so lovely, I kid you not, all I can think is: why do people eat ice cream when they could wander off into an evening of bird song and mossy shadows?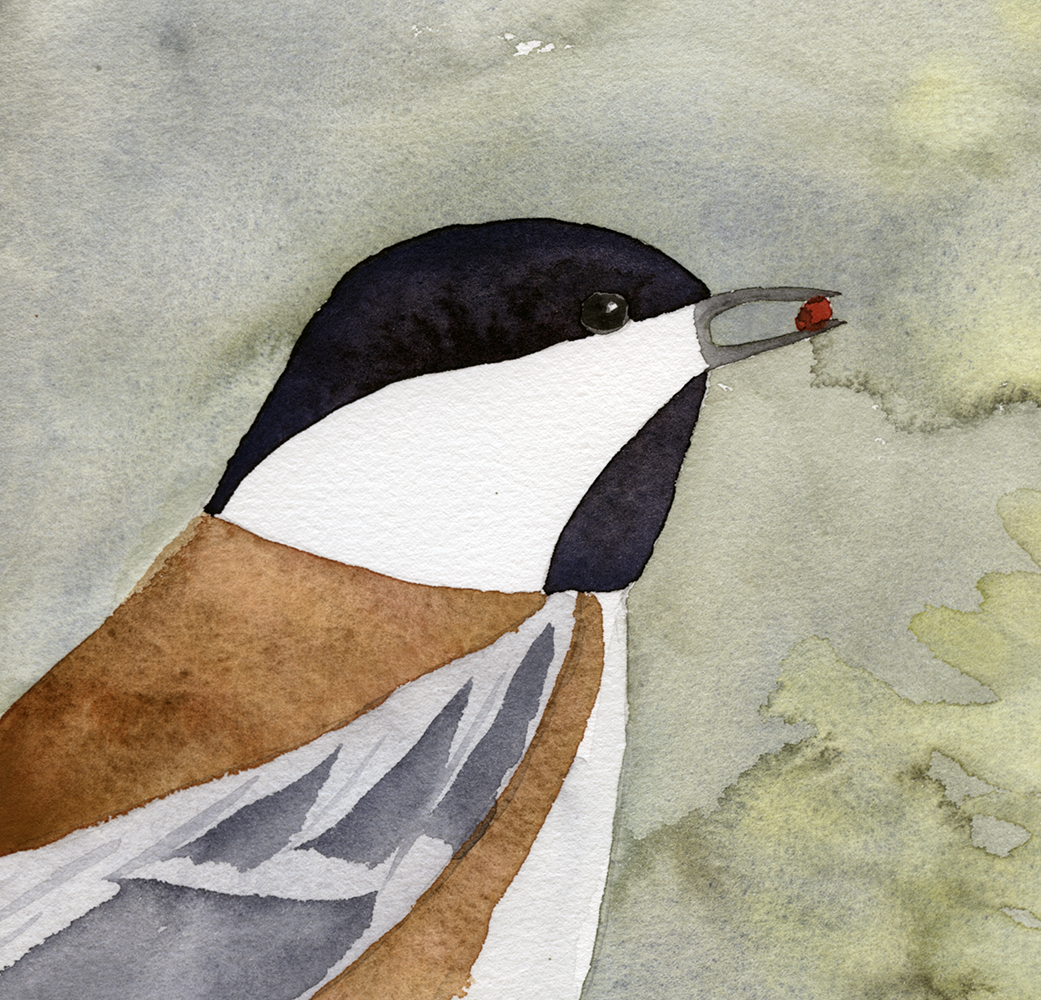 I don't want to leave. I just taught a one day workshop at Sitka Center for Art and Ecology and I think to myself, it should have been a week-long workshop, this is paradise. Before I checked in I hiked the Cascade Head Trail that starts near the Highway. It was not as magical as this dusk walk but it was equally enthralling to watch the Wilson's Warblers flit about in brush making their fierce kissing calls, indicating I was unwelcome. The Chestnut-backed Chickadees entranced by berries along the trail were so close it seemed I could hear the softness of their feathers in their noisy fluttering and see how they can sing even while holding a berry in-beak.
A Raven then flew over in its varied commentary which made me feel watched and laughed at. This seemed appropriate because at that point I was pretty sure I didn't really want to be an art teacher—what better way to deflect the stress of wanting so much to be good at what one does? I had spent the whole car trip worrying about running out of paint. Luckily there was nothing to do but proceed as planned. I started the workshop nervous, wondering if it was such a good idea to trust that my knowledge of the book form I was teaching would inform my words instead of planning what to say.
My knowledge did inform me what to say and my love of seeing people making books emptied me of my normal agendas and judgments in the same way the Varied Thrush's song does. It was not a barren kind of emptiness. It was a tangible contentment supporting people in voicing their creativity while learning a new and sometime puzzling art form. It was not unlike watching a chickadee sing while holding a berry between its beak and I felt like I was being of service as I do when I volunteer.
A few days after the workshop while I am at home in a seemingly unrelated conversation I will learn something about purpose, about singing regardless of what we hold. I tell a friend about my latest muse, how I'm sure he has many admirers. Men are so attractive when they share their expertise, I say.
Humans are attractive when they are in their purpose, my friend says. He's right. This man's intellectual prowess is not the draw, it's his passion. I imagine he spent his life immersed in the things he loves and now seems deeply imbued with them.
I consider this alongside my experience of service and decide we have the most to give when we allow our own purpose to guide us. It is not a thing to double check, to asses rationally in terms of the world's needs. I don't know what my muse is like as a person but the attraction uncovers my own animus: how I want to be in the world.
We all have a right to choose that our lives matter deeply to us even if they matter to no one else. It seems like a small thing. But for some of us it requires a strange amount of courage to choose because choosing obligates us to do things we imagine will lose the affections of others.
Making this choice obligated me to part with privacy and start an odd autobiographical and illustrated blog about being outdoors a little engrossed in my own thoughts. To my surprise, keeping the blog feels like growing out from under the large rock that has always rested on my spirit. And now that I understand purpose a little more I'm imagining these posts as an eerie harmonic floating through the far woods, occasionally touching a dusk traveler who, for a moment, slips out of their agendas to be presented with a choice to love the seedy, unplanned life they so elegantly inhabit.