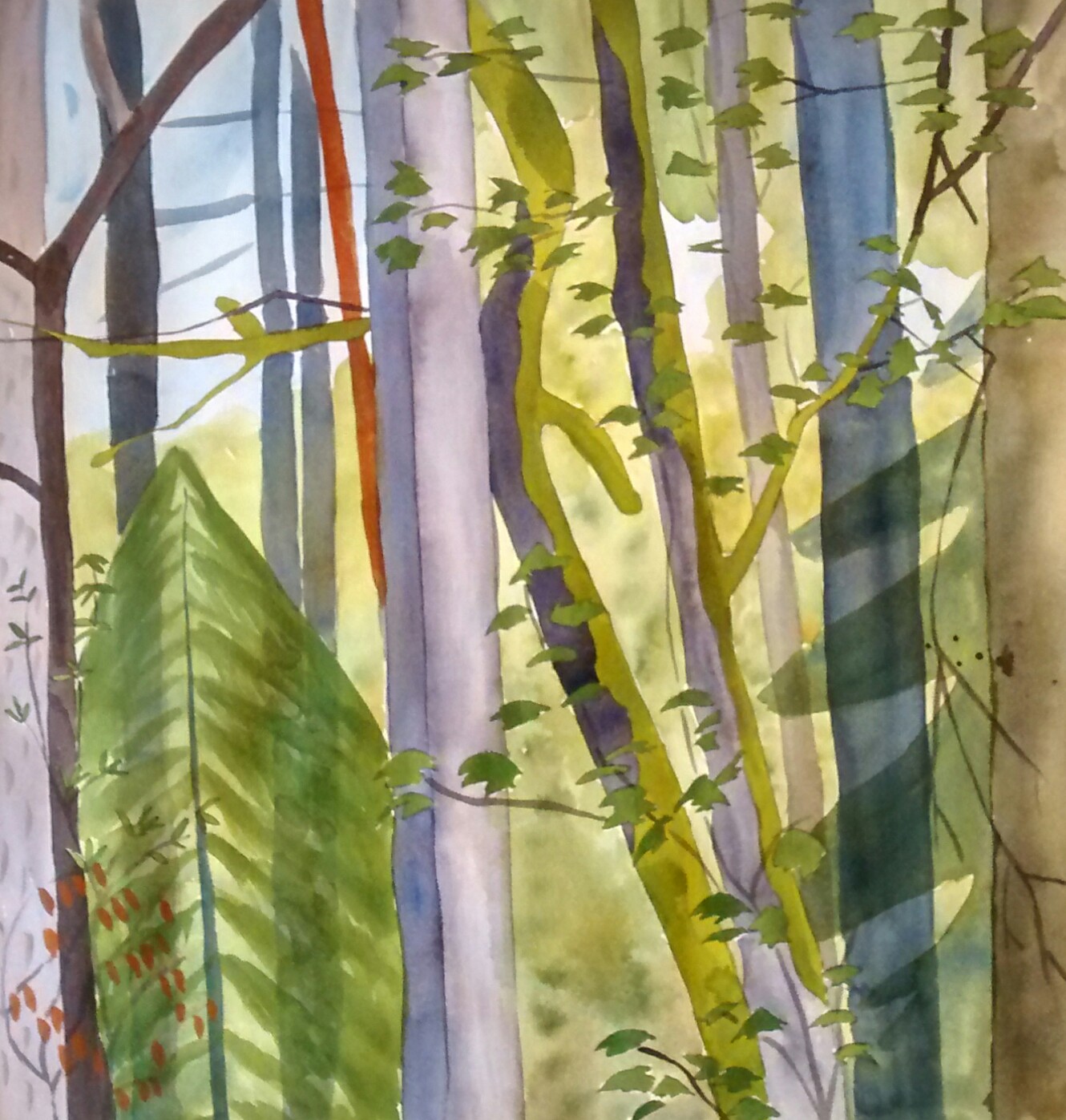 Having been in Portland for a few months now I am not surprised to find Tryon Creek State Park's overflow lot completely full at 9 am on Saturday. Back in the day the front lot might be close to full but this is a little overwhelming. The visitor's Center trail heads are busy with runners, families with strollers and hikers. Clearly we need more parks and natural areas so we can all have peaceful quality time out in nature instead of being on a highway, it's nice to have more gaps between encounters.
I head down the Maple Ridge Trail to the spot where I did some studies yesterday because I realize I need a few more. I'm just getting my feet wet in an endeavor to make large paintings in the studio based on extensive studies made on-site. This will be an inbetweener, making more studies than normal to get an experiment going and see what it's like to paint large.
There have been several 90 degree evenings this summer when I came to Tryon Creek with my paints and was unable to get myself to paint, it was easy to rationalize with all the mosquitoes that settle on a person who sits still in the woods in summer. Bug spray kept them off me but they were still buzzing around close enough to be a menace.
I knew mosquitoes weren't the real issue though. I went for a one night backpacking trip along the Salmon River with my paints thinking that a day trip would be just the thing to inspire me. I made some drawings but instead of painting I spent a lot of time sitting by the river listening to the world. The bugs hovering above the water, zig zaging across the open space, the Lorquin's Admiral butterflies fluttering from one rock to another then off to a tree branch, the kingfisher passing through in search of a good spot to fish, the ravens and their throaty calls, one landing in an evergreen and hopping up the boughs one by one like a ladder.
The deep sounds of the river flowing around the large mossy rocks cleared out my head and gave me space to answer all sorts of questions like how to arrange my studio schedule around a constantly changing work schedule when habits have always been my lifeline out of inertia. I also decided to to get more involved in my studies of a place prior to making paintings, to not just address a scene's visual material but to be present there, observant, as connected as my divided brain allows me to be. To then collect all the material into a large painting in the studio at home.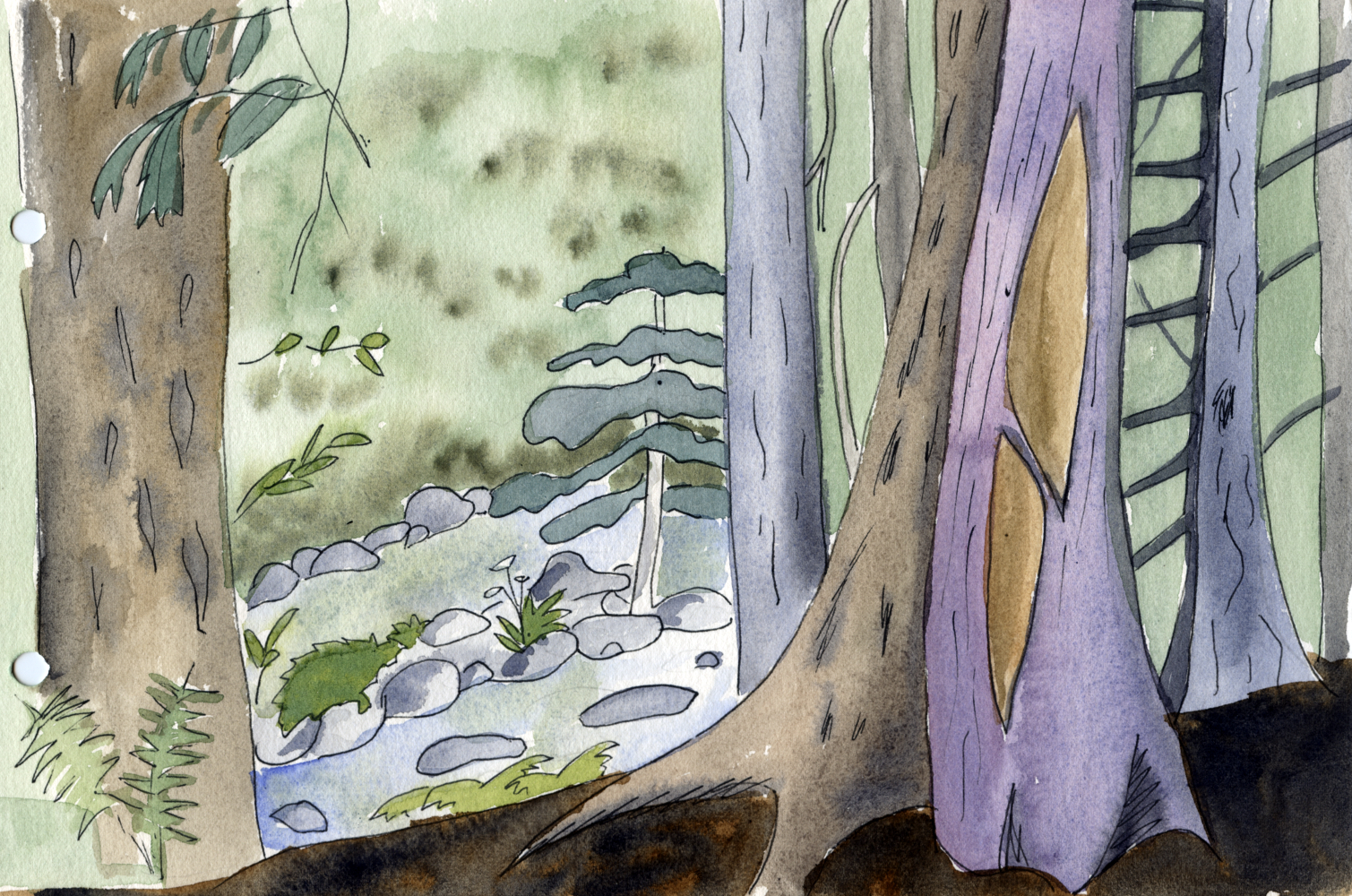 At night back in my little camp a bat flew past, lurching after bugs with amazing speed and grace. It made dozens of laps through the area, passing above or alongside me each time. Where did this bat spend the day, I wondered enjoying its erratic shadowy presence, trusting its own blind technology to not collide with me even as I moved about to brush my teeth and change into soft fleece for a cozy night in the hammock.
I'm not sure how to get that relaxed and involved in a place with so many humans milling about as at Tryon Creek but the challenge is just what I need to feel inspired again instead of forcing myself to continue producing the same kind of work as I had been.
I pack up my studies and wander down the hill to the creek admiring all the orange blossoms in the undergrowth, the bare packed dirt that develops around any interesting feature like a particularly large fallen log or a uniquely shaped tree that begs to be climbed into, the yellow and orange leaves that collect around the edges of rocks in the creek.
The ravens who live here squawk at each other as I cross the park and I wonder if I could ever love the loud and brash antics of people the way I love the antics of birds. A group of women in spandex has been out of sight behind me on the trail for sometime and one of them is bellowing her part of the conversation which is sizable. I stop by the creek to let them pass while an even louder group approaches from the opposite direction, young boys with blood curdling yells.
Society has such a task balancing everyone's needs, the need to play, the need to be quiet. I wish I could be like the bat who went about its business unconcerned with the human in its way, seemingly content to wake at dusk and hunt for bugs the same as every other day.