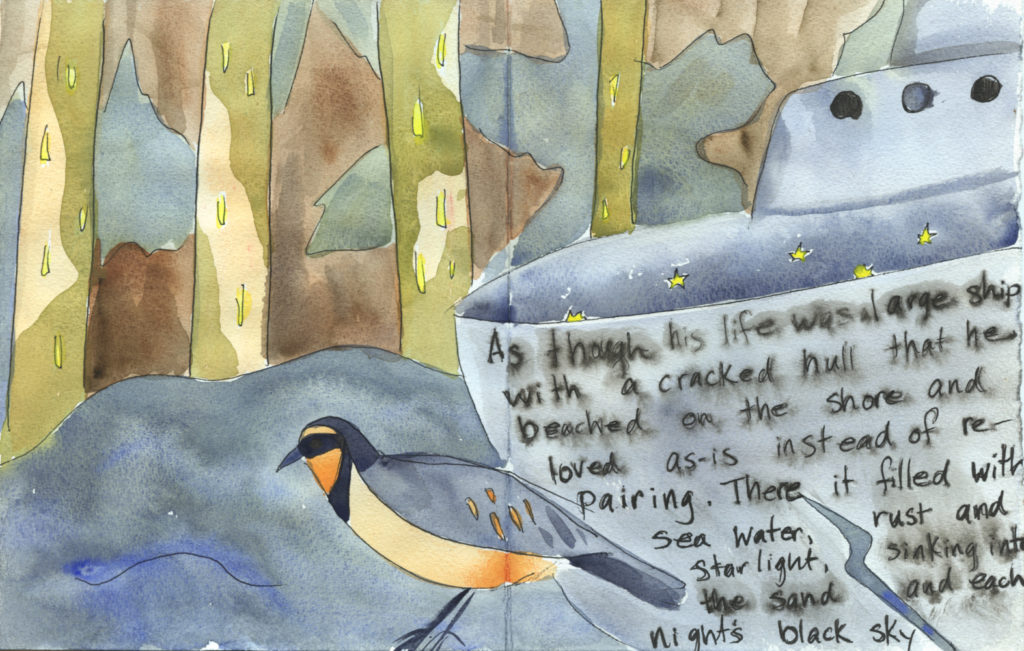 I trudge up the steep side street on my way to the woods, hoping to walk my way out of a mood I got into after my counselor wondered aloud if I shouldn't make art into more of, say, a hobby.
I hate the word hobby but I also hate channeling my passion into business ideas so I decided to try this suggestion out. Then, after rearranging my studio, I found myself grieving as if having lost a love. Sobbing often and uncontrollably was a new and alarming thing for me, but I'd always wanted to be one of those heart-feeling types.
After I cross the highway I walk down gravel streets wondering what my former and admired therapist would say about this. He had such a quiet spirit that it radiated a tangible and pithy compassion. As though his life was a large ship with a cracked hull that he beached on the shore and loved as-is instead of repairing. There it filled with seawater, rust and starlight, sinking into the sand and each night's black sky.
I walk into the woods where the trees are unusually luminous, as though they are also considering starlight as their lost branches break into the soil at their feet.
I approach the park's mandala and notice a Varied Thrush on the ground. I delight in his dapper orange brows and the deep gray crescent across his breast before he startles and flies into the branches above the circle of flower petals, pine-cones, seedpods and winter berries.
I once met the woman who keeps this mandala. She had a mischievous, uplifting presence; it wasn't a surprise when she mentioned the local paper gave her the job title, Fairy.
On the way back home I think more about boats and how I see my love of art as a mystical skiff that keeps me afloat in the great unknown more reliably than beliefs or relationships, even if I have some other calling I've missed. Sometimes we need job titles for our deeper livelihoods and not everyone understands.
Suddenly I feel my feet in the dirt by the road. The sunshine that is all around empties my thoughts for a few moments. Each step feels to be a gift; I'm here on this one tree-lined street, on this giant planet, in my own pithy aliveness filled with starlight and lost branches.