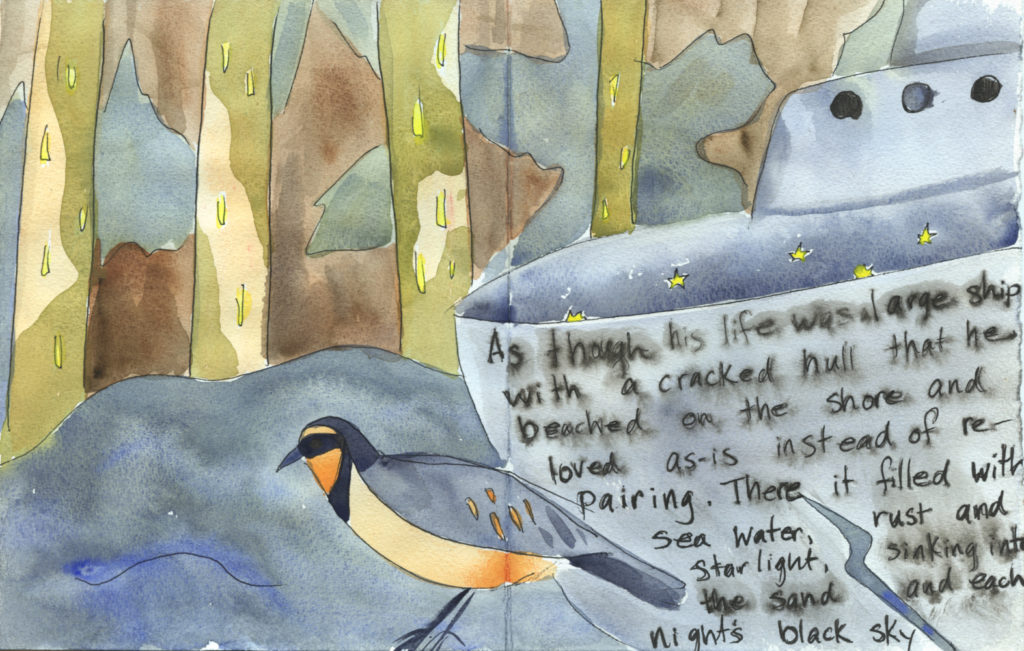 I leave the house today solely on the advice of many past outings where what seemed like a deep depression lifted into a light melancholy and became joy just by going for a walk. I trudge up the narrow side street into Spring Garden Park without any such relief but decide to keep going.
This mood began after my counselor pointed out how much pressure I put on myself to find success as an artist and my secret belief that such success would spill over into my personal life saving me from having to find friends in an aloof town and date so many Mr. Wrongs to find Mr. Right-enough. She wondered if it wouldn't be beneficial to make art into more of say, a hobby.
I hate the word hobby but I was feeling failed enough in that moment to take up this suggestion. Why wouldn't I prefer to just make the art I want to make instead of trying to develop a consistent body of work, market it, submit it to galleries and sell it. I have never loved these activities and clearly prefer the stability of waiting tables.
I walk along Dolph Street considering if I have the vitality to make it all the way to Woods Memorial Park. This fatigue I'm under is not subsiding and the cold wind is quelling any benefit I should get from the brilliant sun and blue sky.
After cleaning out the studio to focus on my passions instead of commercial interests I found myself grieving as if having lost a love. Sobbing often and uncontrollably was a very new and alarming thing for me but I had always wanted to be one of those genuine, heart-feeling individuals. Here was my chance to feel and hurt and love.
After I cross the highway I walk down the gravel streets wondering what my former therapist would say about this. (Yes, the one I had a giant crush on.) He had such a quiet spirit it radiated an intense and tangible compassion that had a certain pithiness to it. As though his life was a large ship with a cracked hull that he beached on the shore and loved as-is instead of repairing. There it filled with seawater, rust and starlight. It sank into the sand and each night's black sky.
I walk down the trail into the park immersed in this vision when I look up and see that the trees are unusually luminous as though they are also considering starlight and seawater. As though they have something to say about a life that does not include the word failure even as their lost branches break into the soil at their feet.
I bask in the beautiful light of the trees and as I approach the mandala the Fairy of Woods Memorial leaves on a drain cover by the trail I notice a Varied Thrush on the ground. It's been a while since I've seen one and delight in his dapper orange brows and the deep gray crescent across his breast. He sees me and flies into the branches above the circular arrangement of flower petals, pine-cones, seedpods and winter berries.
I once met the woman who keeps this mandala. She had a mischievous, uplifting presence so it wasn't a surprise when she mentioned the local paper deemed her The Fairy of Woods Memorial. I looked up the article at home and curiosity lead me down an internet rabbit hole where I discovered a performance she did about an abusive relationship with a spiritual teacher. It was so touching that she would reveal such a large crack in the hull of her life. Yet doing so allowed her to mend, to help others being drawn into or getting spit out of similar catastrophic currents.
Having had some less-than-glorious relationships with guru-types myself it was healing to watch. So now I walk through the woods, my imagination filled with both a rusty half-sunk ship and an expertly patched fairy-skiff darting through swift rapids.
As I walk back through the neighborhood I get deeper into the day's boat theme considering my long-held belief that it is important for humans to have a mystical canoe made of things one loves. These help us to stay afloat in the great mystery of life even when our identities, religions or loved-ones fail us. I made a canoe of art and words and believed that, even if I had some other calling I had missed, it was good and right to have utmost respect for my canoe.
Suddenly I feel my feet in the dirt by the road, the sunshine all around empties my thoughts for a few moments. Each step feels to be a gift, an opportunity to be here in this one tree-lined street, on this giant planet, in my own pithy aliveness.
Arrogant spiritual teachers don't have to be abusive to cause damage. They have a way of espousing freedom while allowing only one right thing to live for. Even years after the fact I live in their shadows afraid that the little ideas I like to elaborate into grandiose spiritual adventures aren't right enough to be worthwhile. It's just as much pressure as believing I need to actually sell art to have a meaningful career.
Why wouldn't I respect these travels? Paddling between my ego and heart, asking question and collecting bits of wisdom that don't always fit together. Perhaps this excuse to admire seawater and starlight, to celebrate sunlight and neighborhood walks is my own kind of right.