The neighborhood is peaceful, just houses with luminous pumpkins glowing in the thick fog alongside outrageous spider webs, skeletons and other Halloween bric-a-brac. I amble north through the dark greens, luminous yellows and pungent oranges in the woodsy neighborhood until a staircase leads me through a little gully to the shoulder of Beaverton-Hillsdale Hwy. The neighborhood on the other side is new to me and I am delighted to find a footpath that crosses a forested creek on a narrow, chain-link covered bridge. The fencing has collected an impressive crown of maple leaves under the dark forest, turning it into an eerie tunnel that fits the mood of the season.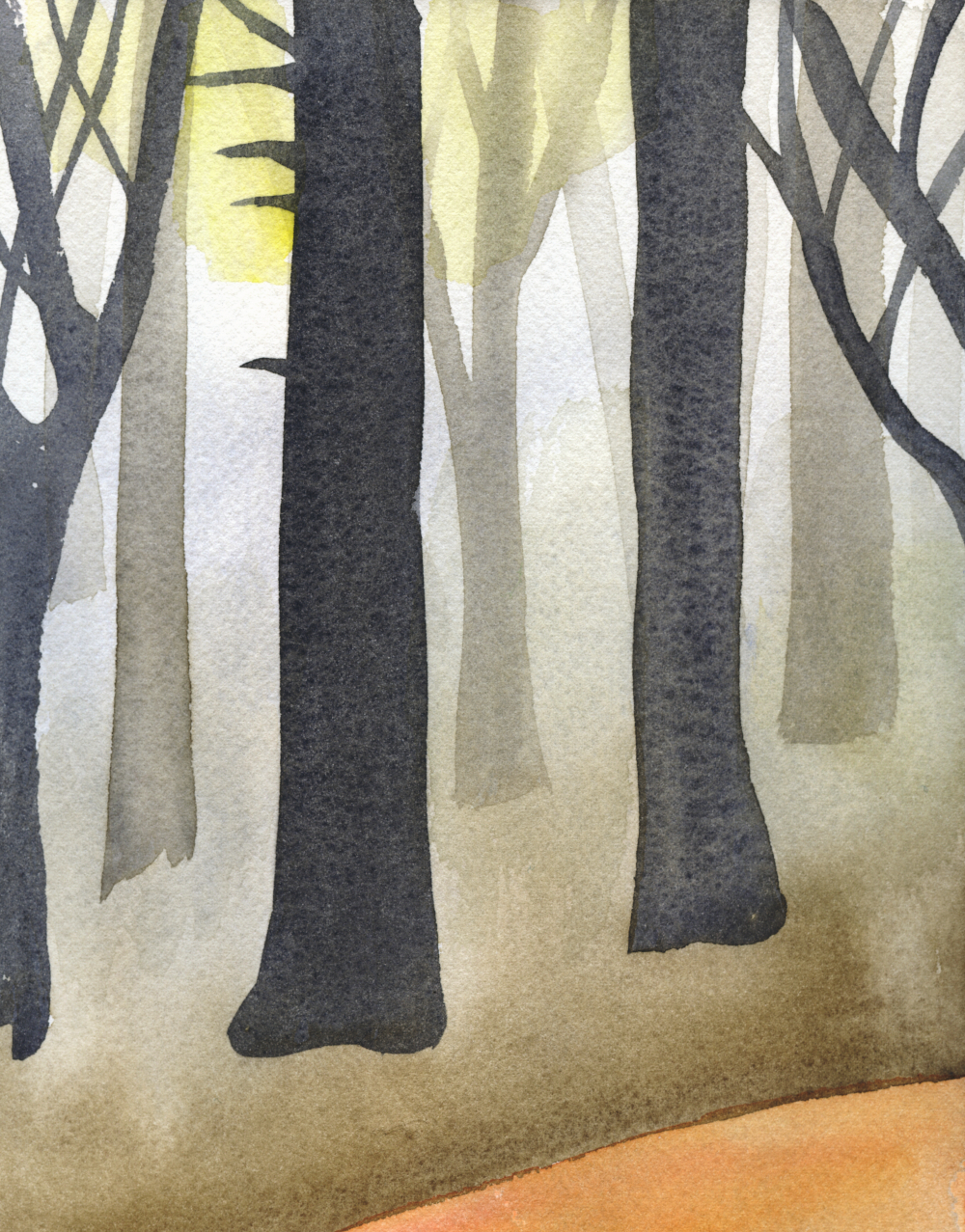 When I reach Council Crest at the top of the hill the stately trees are layered by distance and fog leading me down the other side where the route plunges into another swath of urban forest, traffic noise picking up as I get closer to Sunset Hwy.
I cross the highway and step into the Arboretum 2 hours and 10 minutes after leaving home. It's a long walk to get to a place where I want to go for a walk but ditching my car feels like a luxury of inefficiency.
In the meadow behind the Forestry Center I stop to a rest under a maple. Juncos flit about overheard, yellow leaves dart from their branches, filtering through the limbs then landing on the ground.
Further down the trail dark seed pods create dense rhythms against the embers of leaves on an intricate lace of limbs, everything soft in the damp air. The starkness of the black walnut stops me in my tracks; Each main branch makes its own angled pane in the sky in differing shades of gray and just one leaf on the tips of each branch remains. They are a delicate, earthy yellow, gracefully arced and sparse like a Phillip Glass composition.
The girding maple has yellow leaves so pale they look partially erased while juncos, camouflaged on the trail, dart into the grass as I approach.
I lay down in the grass under the London Plane trees, sinking deep into a day with nothing to hurry to. Each junco and robin sailing above, each leaf twirling wildly in the breeze, are lost truths stitching themselves back into my being where I lay, half-erased like an ambitious manuscript fading into one line of a poem.