I left at 7:25 am, walked against the flow morning traffic along the gravel edge of my street and hopped onto 32nd after crossing Capitol Hwy. It's peaceful now, just neighborhood houses with luminous pumpkins glowing in the thick fog alongside outrageous spider webs, comedic skeletons and other Halloween bric-a-brac. Thirty-second street jogs around at Florida then crosses Vermont into a part of the neighborhood I've never been in. I descend into the dark greens, glowing yellows and oranges of Autumn admiring the quaint homes of an old woodsy neighborhood. I take a staircase in and out of a little gully to Beaverton-Hillsdale Hwy and cross to a path through Hillsdale Park which spans Trillium Creek on a narrow, chain-link covered bridge. The fencing has collected an impressive crown of maple leaves under the dark forest along the creek making it into the kind of tunnel where one would expect to find trolls or woodland sprites.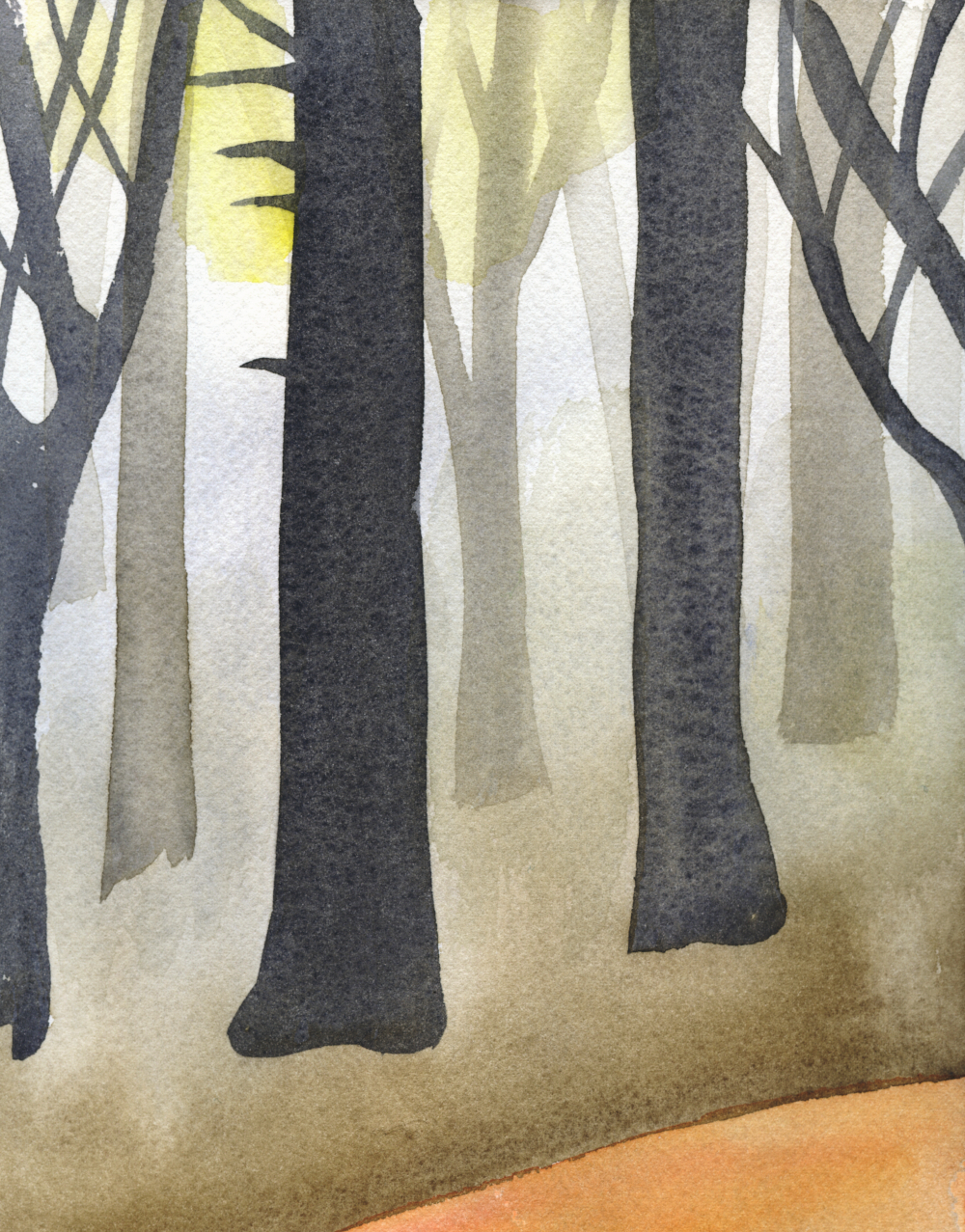 The terrain steepens and I note that this will not be the same low-key bit of exercise as my amble through Gabriel Park the other day. I climb the railroad tie steps through a narrow passage between one-off homes in Southwest Hills, stop to check my notes to the map, and continue upward to Council Crest. The trees at the crest are layered by distance and fog in a stately veil of gray. I walk through them along a leaf covered path to the Hilltop intersection then plunge into another swath of urban forest on the Marquam trail, traffic noise steadily picking up as I get closer to Sunset Hwy.
I have to admit that I'm tired and this might not be the most realistic way to get to the Arboretum on a regular basis. That wasn't the hope but it would be nice to never have to drive. It's 20 minutes by car to Hoyt from my house but it feels like a harrowing trek with all the traffic and impatience. This walk is far more enjoyable. In part, I planned to do this as an experiment in not being so captured by time. So often on my walks I feel hurried to get back to the studio to work.
The last couple walks I took after embracing inefficiency were so luxurious and relaxing I know that I need to do this regularly even if I can't exactly sell my car. I cross Hwy 26 and step into the Arboretum 2 hours and 10 minutes after leaving home. A little farther to the meadow behind the Forestry Center I stop to take a rest under a maple. Juncos flit about overheard, yellow leaves dart from their branches into the unknown spaces below, filtering through the limbs then landing on the ground.
When I start walking again I am suddenly unable to absorb the beauty spilling out of every inch, so many textures, lines and colors; dark seed pods creating dense rhythms against the embers of glowing leaves on an intricate lace of limbs, everything soft in the damp air. The black Walnut stops me in my tracks; just the leaves on the tips of the branches remain, a delicate, earthy yellow, gracefully arced and sparse like a Phillip Glass composition. Each main branch makes it's own angled pane in the sky in differing shades of gray. Fog is a much better painter than I will ever be.
The tupelo trees have shed most of their leaves, just a week ago they were full and red and brilliant.
The gerding maple, with yellow leaves so pale they look erased, feels to be halfway between here and eternity, juncos camouflaged on the trail dart into the grass as I approach. They seem to be everywhere in the park at once.
When I am too tired to wander anymore I take the MAX train to my favorite coffee shop and draw what I can remember of the walk but mostly I want to do it all over again.
A week later I do. This time the sun comes out as I arrive at Hoyt. I lay down in the grass under the London Plane trees, sinking deeper into a day with no agenda. To rest, to have nowhere to go at any specific time is a mind-altering experience with no unwanted side-effects. Each junco and robin sailing above, each leaf twirling wildly in the breeze are like fables of lost truths generously stitching themselves back into my being where I lay, half-erased like the leaves of the gerding. The manuscript of everything I want to do with my life fades into eternity, each ambitious plot erased into one line of a richly questionable poem.