I thought I was going to Gabriel Park to make sketches for a painting but apparently I was going there to take a nap in the meadow. I would blame this on the Pedalpalooza Kick-off ride but it was just me waiting until nearly 11pm to look at the bus schedule and then having a 2 hour journey ahead of me. There are reasons older people become set in their ways and do silly stuff like go to bed early and it's not that they don't like to have fun. We come to find it's not fun to spend an entire day sleepwalking just for a little extra nonsense the night before.
All the same, I was excited to be on foot en route to my painting spot. Any time I can shirk off a car ride I feel accomplished, like putting off the laundry an extra day. Multnomah Village is a more active place than it used to be, a hub of urban life with a giant overpriced apartment building on the main street, an old favorite restaurant closing its doors because the rent is too high. I'm glad, at least, that so many people are drawn to live in a woodsy, walkable neighborhood. We have a desperate need to humanize more of our habitat but we need to do it for everyone, not just those who can afford to live in or near luxury apartment buildings.
Anyhow I'm half asleep and it's hot out because I'm on the slacker schedule of leaving my house at 2 pm. This puts me in a mystical space of being aware of nothing besides being hot and sleepy and loud things like the Dad lecturing his son about his attitude on the baseball diamond sidelines. I personally support the son in not being able to gracefully handle an entire day of sportsball.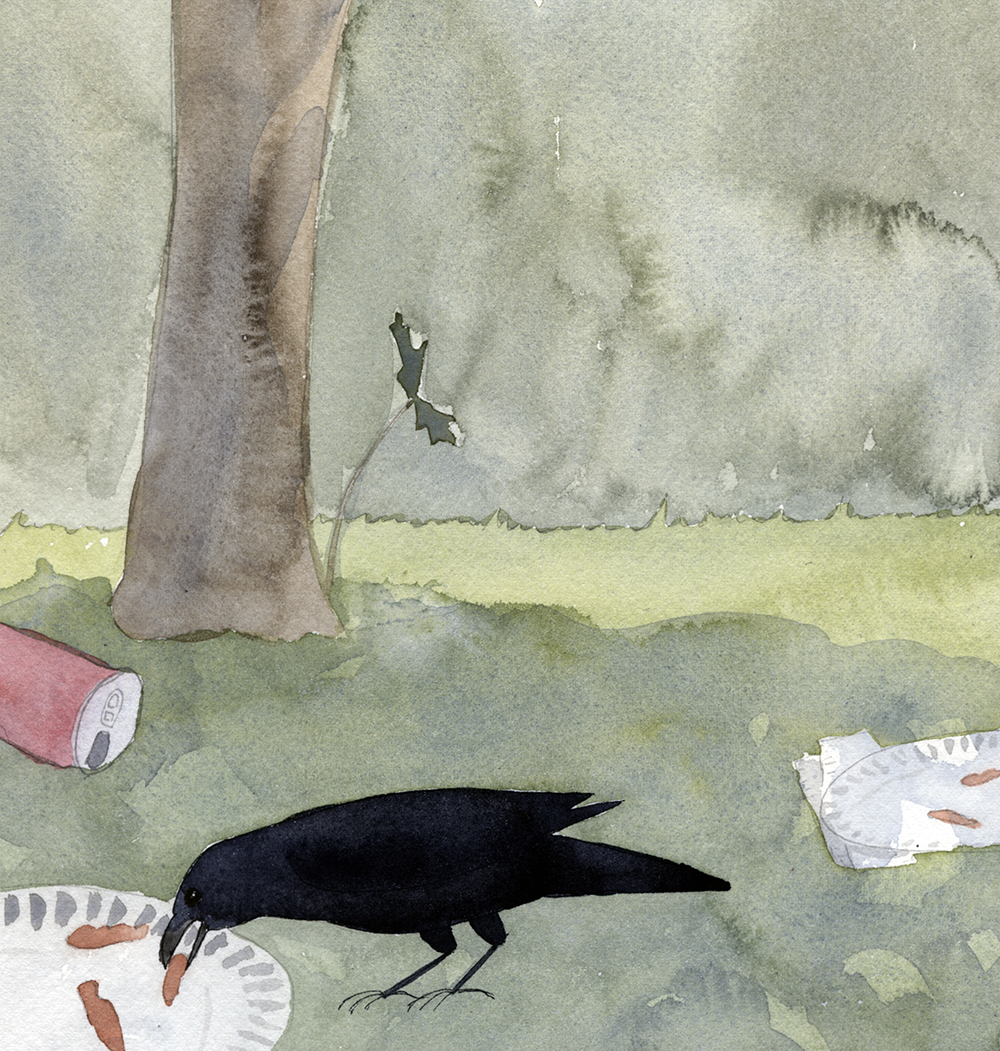 Past the ball field, I enter the cathedral of Cedars that make up the mid section of Gabriel Park. There is a crow aggressively dissecting the remains of a family picnic while the humans are off in the grass playing games, a woman sunning herself while reading a book. I stop and sit on a bench, I'm in one of my favorite parks, where do I want to go to sketch? I head into the forest by the creek and admire the cedars who do not grow all the way to the ground like cones when they are so close together; its an intricate interior without a lot of undergrowth. The shapes and shadows are intriguing but someone wants a cozy spot to sit so I walk through these woods to the little meadow where I used to go at dusk in the winter to watch the crows settle into their rook.
I sit on the grass and contemplate sketching, contemplate how long its been since I spent a lazy day laying in the grass with no goals, then lay down watching the birch leaves bob in and out of the light above me. The next thing I know I am confused about what is making so much noise splashing in a tiny creek when I realize there is a car on the gravel road behind me and I have been fast asleep. I watch a couple crows pick around in the grass and fix my eyes on a perfectly round black spot on a log at the edge of the wood which reveals itself as a bunny when it's ears move. I can't resist a chance to include wildlife in a painting so I get out my sketchbook and take some notes, draw a bit. Sometimes we have to finish a secret mission before we can get on with our goals.