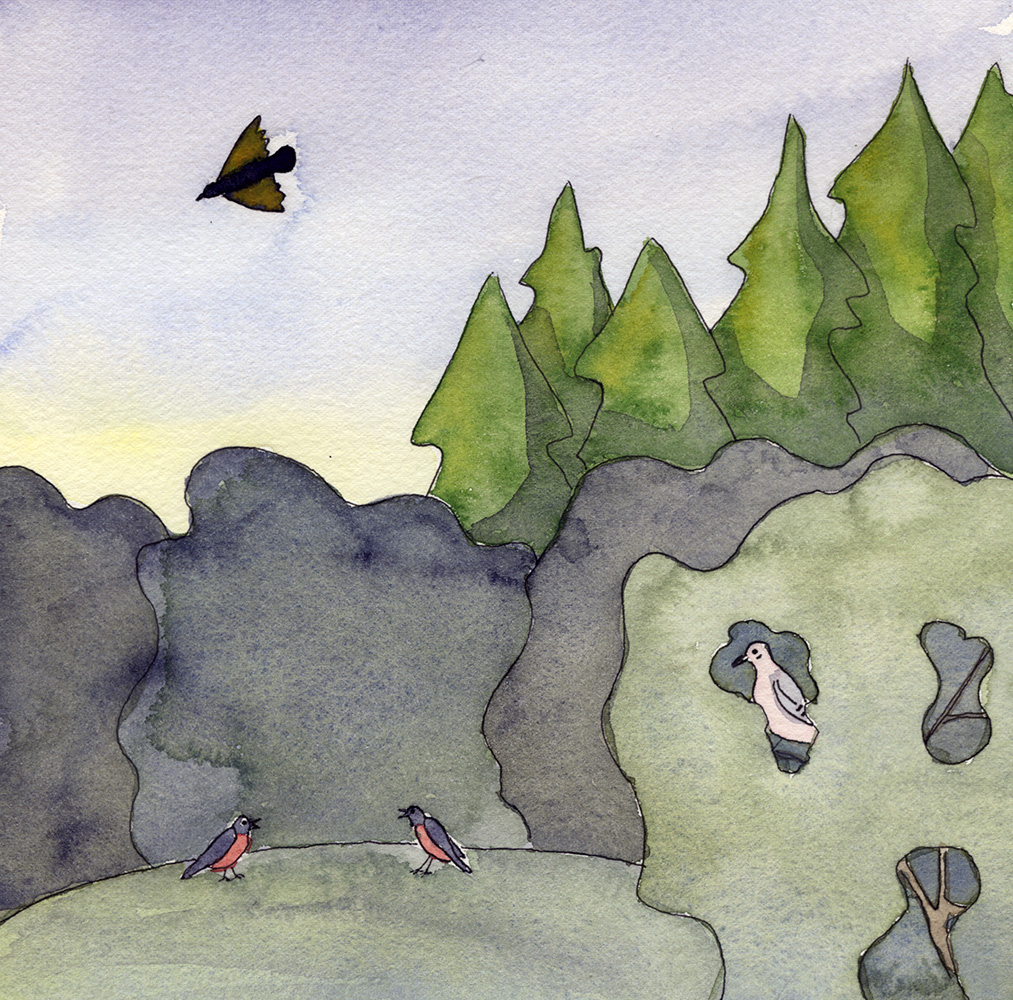 I went to the arboretum this morning just after sunrise, above the shadowy deciduous trees the evergreens stood glowing green-gold in the light as the crows flew over in black-gold wings, the robins chuckled, and a morning dove flew quietly into the maple.
I feel unusually content as I walk down the slope toward the flames of trees in yellow leaves. The ground feels soft, as if this is the one place in the world I am invited to be in right now, that there is one specific place I belong in each moment but I am rarely there except this morning.
I walk to the Tupelo trees, my Autumn favorite. They are sporting a few red leaves already. I would love to come everyday to watch them turn. If I had a bucket list the one thing I would put on it would be to take the entire Autumn off, to wander around all day admiring trees changing colors.
This is just the beginning of the season, I spent the first full day of Fall walking along the Clackamas River with a new fellow I'm very fond of. Like a lot of people, I think it is Fall the moment I feel a little chill in the air and see leaves turning colors. He holds off on such celebrations until the actual equinox. This year I paid attention as the leaves turned and the air chilled and find myself agreeing with him. Autumn is still my favorite season and part of what makes late summer so enjoyable are the signs that Fall is encroaching.
I walk along the Maple Trail listening to a northern flicker and a stellar jay. I sit down on a bench for a while basking in this surprise contentment. It is amazing how much I wear myself out just trying to live a genuine life. I once met a woman who had lived for years at an ashram in India; she thought humans would do well to give up the idea that living a life of joy and peace should be easy.
I think of all the trees and plants and wonder what it feels like to grow—is it ever uncomfortable? Does it strain their peace in spring to produce so much new fiber in such a short period of time? Perhaps they enjoy the tumult because they trust it is their nature.
I sit down in the Beech Grove to do another study and decide to cast off the unfortunate ideas I acquired while trying to be enlightened in my 20s—that making an effort to develop my own life is contrary to living a peaceful and meaningful life.
It's not natural to live like it's Autumn year-round, the trees know. In Sprig they surrender to the hard work of making leaves and when Summer yields to the Autumn chill they surrender to the delicate task of letting them all go, each landing in the exact place it has been invited to rest. Perhaps I will find more humility in doing the tremendous work needed to be successful with my inborn talents than I have smugly settling for a less turbulent mediocrity.