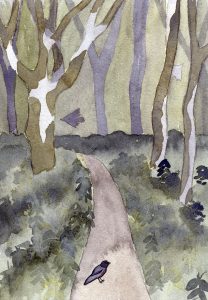 Shotpouch Creek is lined with little homesteads and ranches, homes and barns on organic shaped plots of emerald grass between the highway and the creek protected by hills on either side. Some of these steads have tiny herds of livestock, perhaps 8 head of cattle, a dozen goats. Some have odd collections of alternative dwellings like converted buses, most run-down, or just cars sinking into the mud. It does not seem to be a very prosperous valley except for the tree farm on either side. Still, the enormous maples covered in moss and the rich green along the creek make it seem idyllically pastoral.
I am driving up the gravel road on my way to the Springcreek Foundation's cabin where I am to do a 4 day artist residency. Of course I have been looking forward to spending 4 days in the woods painting trees. Taking 2 days off from the office job to do so felt like getting away with something even though there was no subterfuge required. As a relatively straight-laced person I derive an enormous amount of pleasure out of any sense that I a bucking an oppressive system. The discovery that I could wear flannel pjs under my work slacks, for instance, kept me in good spirits for weeks.
I had planned to arrive early this morning but now it's just after 3 pm and my former excitement has waned to a dim hope that whatever I have become so desperately allergic to in the last few days is magically not present at Shotpouch. The organizer of the residencies did inform us that there is no poison oak on the land. This is the sort of miracle that could be followed by more miracles, I reasoned.
I arrive and settle in with great hope, chatting with the other artists between coughing bouts. I go for a walk in search of a place to hang a hammock. My allergies are not improving and sleeping outside is not a promising option. I hang my hammock anyway then spend some time admiring the art projects former participants left at the cabin, visit some more, journal, make a simple dinner and then head out for a dusk walk
I know I won't be able to stay long and am strangely at peace with this lost opportunity. It is so calm here I can't help but wade through the stillness and feel that things in the waist high nettles are as they are: answering to no one, accounting for nothing. The robins are making a late night of it, chuckling and flitting across the trail, their gray bodies easily mistaken for bats, mischievous fairies or other mysteries. It is not a peace I am sinking deeply into, I have a move to make, a housing application pending. Perhaps my psyche is so invested in future concerns I can't fully grasp that my painting retreat is slipping through my fingers.
After attempting to sleep outside, feeling that each particle of pollen is a tangible presence in my lungs I go in to sleep on the couch and leave in the morning when I realize I'm losing my voice and I can't not talk to the other guests.
I am a bit slow to the ways of the world. In a few more days it will occur to me that other people medicate themselves and go on with their lives when the pollen hits. But I will still feel magically as though nothing went wrong. The creek still winds through the homesteads and the cabin's land. It is a place protected and cherished and there is another time for me to be there.