Sunday morning: my plan is to spend a couple hours at Oaks Bottom Wildlife Refuge before I go to the writing group at Ford Food and Drink but this would involve getting up right at 6 am. Do I get up right at 6 am? No. I get up at 7:18 because day dreams are a necessary substitute for snuggles and I may be a little obsessed with this fellow I met the other day.
It is not normal for me to like someone at first sight. He was standing in a group of people, I caught a glimpse and the cells in my body started clamoring with delight. It felt like they were saying, You like everything about this man, you should try to date him. The message was then routed through synapse loops wired in my brain during middle school and revised to, DO NOT LET HIM FIND OUT!
Later at home, the adult in me admitted it would have been nice to have chatted more, perhaps casually investigated his relationship status. But what is there to be upset about when it is so fun to dwell on this mysterious attraction?
Eventually I get out of bed and make it through my usual routine on schedule to spend forty minutes in the woods. I'll take it. It's Sunday morning after all, and a lovely day—windy, rain here and there. The layered chorus of birdsong is full of tunes I don't know as well as the usual: robins, song sparrows, black-capped chickadees, an Anna's Hummingbird. The steep trail down into the refuge feels like a cavern under the leafing oaks. The foliage is so dense and shady it feels unfamiliar. When the trail forks at the bottom I know where I am again and saunter along in the spring damp just enjoying that I am there at all.
I sit down on a little cement-block wall along the trail and sketch the trees in front of me, their dark forms elegant against the green. I wanted my new body of work to reincorporate text and bits of poems but I seem to be unable to write anything deep or metaphorical, subtle or even interesting. It's OK for now just to sketch trees. I finish and head up the trail, just far enough to watch some chickadees chase each other aggressively through the leaves. It is hard to distinguish mating and fighting with birds. I suppose that would be true of humans too if I didn't know the language. Everyone is always so agreeable in my day dreams, so mutually interested—what special skills do birds have that they fight and mate and mate and fight and do not need counseling in the interim? Is this just the advantage of an undivided brain?
At the writer's group I meet a woman who is a romance author. She actually writes one romance after another and they are different enough that people keep reading them. Have I missed my calling? I must have hundreds of quirky running-into-an-attractive-fellow-I've-been-pining-for-and-ending-up-together scenarios rolling about in my noggin. That time I was attracted to my counselor and imagined an elaborate Mardi Gras scenario so we could hook-up without sacrificing anyone's integrity or mental health. The tryst ended with him waking first, tenderly ascertaining my identity while I slept in his bed, glitter-smeared, mask crushed under a pillow. After reflecting on this disastrous turn of events and his deep feelings for me, he slipped into the kitchen to make me gluten-free pancakes for breakfast.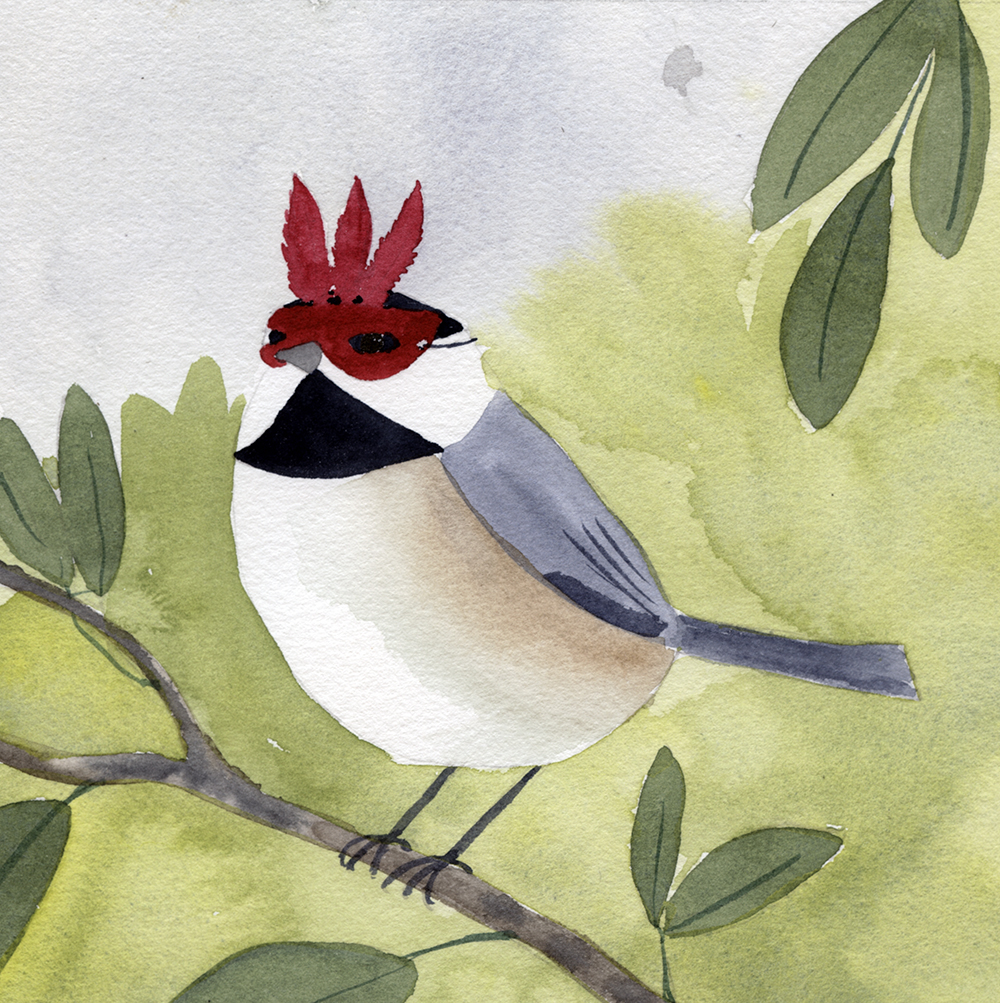 I think about the Chickadees and the fact that I probably wouldn't envy their relationships if I knew what all went on. Then I realize that this parody my imagination makes of longing and love is the advantage of having a divided brain. I get to reflect upon my true self while she is fast asleep, glitter-smeared, a shoddy costume in disarray but a heart intact in it's own illogical integrity, gluten-free pancake mix conveniently stashed wherever she goes. It is just so funny, and tender enough to warrant tip-toeing into the kitchen to make her breakfast.