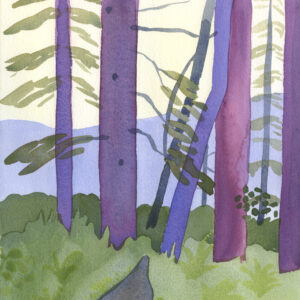 Alexandra Schaefers is a Pacifc Northwest artist and poet who believes the more we value nature in and around ourselves the more society evolves to support humaness and care for our shared habitat.
She creates illustrated poem books, keeps an illuminated blog, teaches art classes and reads tarot to help people find their place in the intricate web of life.
Alexandra was born and raised in Corvallis, Oregon. After high school she attended The Evergreen State College for two years, studying post-modernism and performing arts. Drawn to music, she left school to enter the real world of waitressing and playing alto saxophone; first in Portland, Oregon and later in Jemez Springs, New Mexico.
When that misadventure was over she moved back to Portland and tried to become enlightened. She was not good at this and spent lots of time making artist books, painting in tempera on banner paper, and participating in local poetry open mics.
When she came to her senses she began taking art classes. It was not long before she was enrolled full-time at Portland Community College studying calligraphy, design, drawing, painting, and printmaking.
In 2008, Alexandra returned to The Evergreen State College to study fine art installation and language-as-art. She finished her Bachelor's of Arts that spring and returned to Portland, Oregon. Her resume is available here.